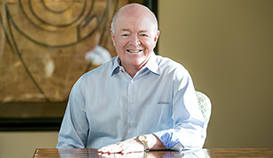 "Leaving my IRA to my children would mean more than half of it would vanish in taxes. Giving it to The Heritage Foundation through my estate is a very tax effective thing to do. To me, it's worth less than 50 cents on the dollar, but to Heritage, it's worth 100% and makes such a difference." -Norman Metcalf
IRAs, Insurance, and other Beneficiary Designations
A beneficiary designation gift is a simple and affordable way to make a gift to support The Heritage Foundation. You can designate us as a beneficiary of a retirement, investment or bank account or your life insurance policy.
Beneficiary Designation Gifts
Donor
Designation Form
Account Custodian
Property
(IRA/Investment)
Heritage

Benefits of a beneficiary designation gift
Support the causes that you care about
Continue to use your account as long as you need to
Simplify your planning and avoid legal fees
Potentially reduce the burden of taxes on your family
Receive an estate tax charitable deduction, if applicable
How a beneficiary designation gift works
To make your gift, contact the person who helps you with your account or insurance policy, such as your broker, banker or insurance agent.
Complete the form and return it to your account custodian.
At the appropriate time, your gift will pass seamlessly to The Heritage Foundation without the delays of probate.
Important considerations for your future
If you are interested in making a gift but are also concerned about your future needs, keep in mind that beneficiary designation gifts are among the most flexible of all charitable gifts. Even after you complete the beneficiary designation form, you can freely use your account as needed. You can also change your mind for any reason in the future, allowing you to maintain total control and flexibility.
This can be easily accomplished by contacting your IRA account custodian and requesting a change of beneficiary form. Heritage's Tax Identification Number is 23-7327730.
Contact us
If you have any questions about leaving a beneficiary designation gift to us, please contact us. We would be happy to assist you. The Heritage Foundation's Federal Tax Identification Number is 23-7327730
If you have already designated us as a beneficiary of an asset or as part of your estate plan, please let us know. We would like to recognize you and your family for your gift.
Let us help you create a meaningful legacy for America