Heritage Legacy Society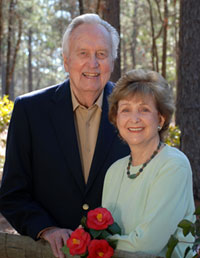 "Heritage's work is critical to our country's future, and we want to make sure this work continues on well beyond our lifetimes."
– Bredesens
Heritage Legacy Society Members
Thank you for your interest in the Heritage Legacy Society! Over 1200 people have already included the Heritage Foundation in their estate plans. To join, you must either include Heritage in your will, estate plans or invest in a mutually beneficially gift like a charitable gift annuity.
By joining, your commitment ensures Heritage will be able protect and defend the American values you cherish for future generations.
Benefits of Membership:
A commemorative Heritage Legacy Society pin
Special invitations to Heritage and Heritage Legacy Society events held around the country
Recognition in an upcoming newsletter
Your contribution to The Heritage Foundation is also permanently memorialized in a special place of honor in our building here in Washington. (Of course, you may choose to remain anonymous.)

If you would like to become a member of the Heritage Legacy Society but want to speak to someone about the details first, please call (800) 409‐2003 or email
legacy@heritage.org
.
If you have already included Heritage in your will or estate plans and would like to join the Heritage Legacy Society, please
click here
to fill out the form to send us your information.